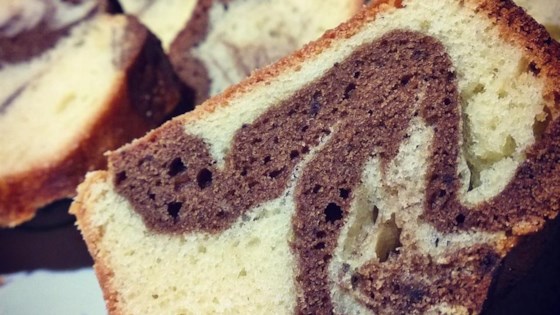 I ran across
this recipe
a while back and printed it out so I could try it sometime. That time came today. And boy am I glad I tried it. This cake is delicious! This is my take on the recipe - a little lighter on the butter and sugar and if you want to try whole wheat flour for half of the white flour, let me know how it turns out for you. I was being lazy and didn't do that this time.
It's pretty easy, too. Mine isn't quite as swirly and pretty, but I was being lazy and trying to keep it to a one-bowl-one-pan-one-spatula recipe because I hate doing dishes.
And I'm in love with bundt pans at the moment. And cake.
German Marble Cake
3/4 c. butter, softened
1 1/4 c. sugar
1 t. almond extract
1 T. baking powder
1/8 t. salt
4 eggs
1 c. milk
3 1/4 c. flour
1/4 c. baking cocoa
1 t. rum flavoring
2 T. milk
Heat oven to 350°. Grease a bundt pan and set aside.
Cream butter and sugar. Add almond extract, baking powder, and salt. Beat until creamy. Scrape down the sides a couple of times to make sure everything is well mixed. Add eggs. Beat until incorporated. Scrape down the sides. Add the milk. Beat until very smooth.
Stir in the flour. Beat until smooth.
Pour half the batter into the prepared bundt pan.
To the rest of the batter, add the cocoa, rum flavoring, and extra milk. Stir until mixed.
Pour the chocolate batter over the almond batter in the pan. Run the spatula through the batter a couple of times to give it the swirl effect. Don't overmix, you want swirls, not a light chocolate cake.
Bake for about 60 minutes, until a toothpick comes out clean. Let the cake cool 5-10 minutes in the pan, then turn out onto a fancy plate. Let it finish cooling. Or eat it warm. It's so tasty it doesn't need frosting.