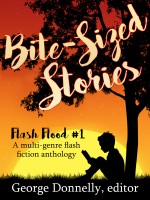 I enjoy writing flash fiction. It's a complete story in 1000 words or less. Very short story. It's a real challenge where every word counts, but it's amazing to me how much story you can cram into those 1000 words.
Bite-Sized Stories
just released. It's packed with 33 of these short flash pieces, one of which is mine. I had fun writing "Aunt Ruby's Jam Cake" although the story really bothered my husband. It's horror and he isn't a fan. If you want to learn the secret ingredient to Aunt Ruby's famous Jam Cake, you'll have to download the book and read the story. While you're at it, try some of the other stories. They span all genres, not just horror. You might find more authors you enjoy reading.
The book is FREE. Why are you waiting? Go download it!
Bite-Sized Stories