We're celebrating the launch of
Spy for a Spy
, sequel to
I, Spy
! Read on to get a tasty recipe and find free & discounted reads! You can also find
Spy for a Spy
at the
special $3.99 launch discount
on
Amazon
,
Kobo
,
Barnes & Noble
and
JordanMcCollum.com
!
About the Book
Canada is probably the last place you'd expect to find an American spy. And
it was the last place CIA operative Talia Reynolds expected to run into fellow operative Brand Copley.
AKA her new boss.
AKA her ex-boyfriend.
Just the guy every woman wants to face in the middle of planning her wedding. Once again,
Talia's lying to the man she loves, but this time, to protect his heart.
After Brand takes over Talia's latest case and steals her newest agent, he assigns her to spy on her old boss—who's suddenly giving her every reason not to trust him. With only weeks until the big day, planning falls by the wayside as she goes into damage control mode. But
when Talia discovers Brand's real motives, fighting him is the only option, no matter what the personal and professional cost
.
More about Spy for a Spy | Add Spy for a Spy to your Goodreads to-read list!
About the author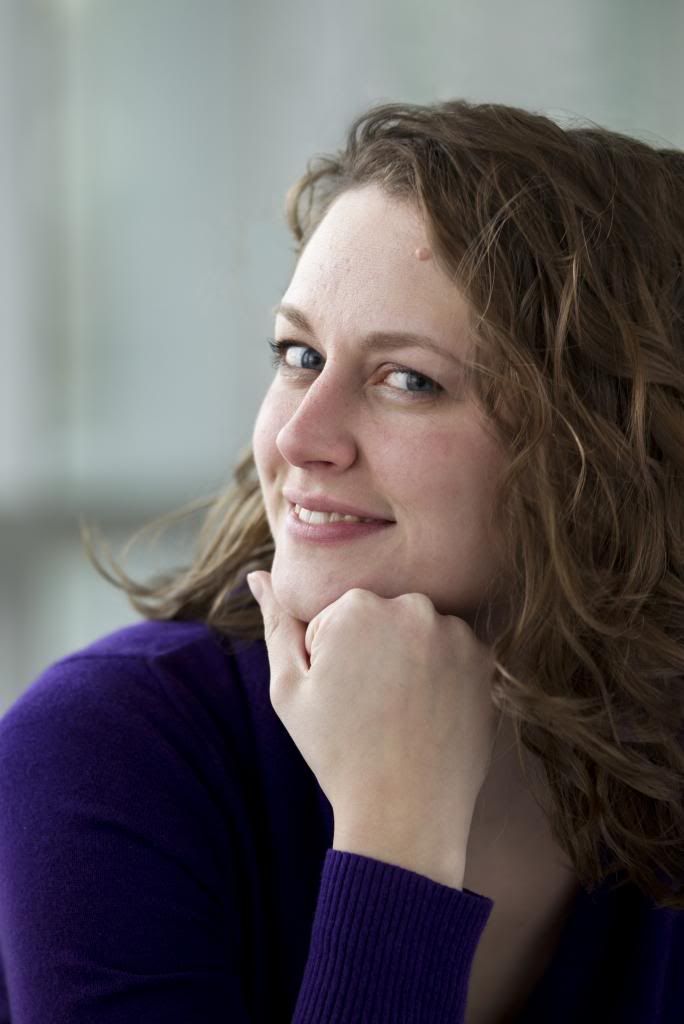 An award-winning author, Jordan McCollum can't resist a story where good defeats evil and true love conquers all. In her day job, she coerces people to do things they don't want to, elicits information and generally manipulates the people she loves most—she's a mom. Jordan holds a degree in American Studies and Linguistics from Brigham Young University. When she catches a spare minute, her hobbies include reading, knitting and music. She lives with her husband and four children in Utah. Find Jordan on
her website/blog
,
Facebook
and
Twitter
!
Author Interview
Tell us about your writing - What genre do you prefer to write? What books, stories, other publications that you've written are your personal favorites? Anything new coming up?
I mostly write romantic suspense. I love all my stories like I love all my kids—differently! My previous novel,
I, Spy
, is like a golden child who was just born with this fun, funny personality. Some manuscripts waiting in the wings are like the kid who just really always "got it," or the one who take correction really really well, and made you a better parent. (I need more kids like that!) My new novel,
Spy for a Spy
, is like the wayward child that you've had to fight with all growing up. Now that it's out in the world on its own, seeing the first few reviews has shown me this baby is finally on the right path! ;) I've just started on the third book in this series, and I have another prequel novella waiting for edits, too.
What writers inspired you to become an author?
I don't admit this often, but J. R. R. Tolkein definitely deserves some credit. My first attempt at a novel began as Lord of the Rings fanfic. I won't be penning any more epic fantasy any time soon, but that was my first attempt. (I also switched my major to Linguistics because of him, but that's another story.)
Recipe!
I haven't developed a recipe to go along with this book, but the first book in the series inspired one amazing culinary creation . . .
chocolate chip maple pecan pie.
Maple chocolate chip pecan pie. However you want to arrange it, it. is. DELICIOUS.
The pie was inspired by a real pie, made at a real restaurant.
My characters get to visit Wilfrid's, the totally awesome restaurant at the (Fairmont) Château Laurier. Yep, I've been there—but I'm pretty sure they didn't have this dessert at the time, a specialty of Chef Ernst's. Since Ottawa is a bit far away right now, I made the pie at home. It's good chilled, but let me tell you:
eat it warm
. Nuke it if you have to. YES.
Ingredients
adapted from Pioneer Woman's Pecan Pie recipe. kind of a lot of adaptation
1/2 c granulated white sugar
1/2 c + 3 Tbsp brown sugar
1/2 c corn syrup
1/2 c maple syrup (the real stuff! You can really play around with the levels here, swapping corn syrup for maple—but you'll want more than 1 oz of maple syrup, which is all I had on hand when I made the recipe!)
3/4 tsp vanilla
1/3 c salted butter, melted (and somewhat cooled so you don't scramble the eggs)
3 eggs, beaten
3/4 c pecan halves, plus more pecan halves for the top layer (~20)
3/4 c chocolate chips
pie shell (being me, I also made this by hand, but that's optional)
Directions
Preheat oven to 350 degrees F.
Microwave the 3/4 c pecan halves just until warm, then crush or chop them. (This releases more oils and flavors. Or something. I made this recipe up a year ago, and I did a ton of research at the time, okay?)
Line a 9" pie pan with a pie crust. Pour the chopped pecans and chocolate chips into the bottom of the crust, shaking to settle them in an even layer
Mix the sugars, syrups, vanilla, melted butter and beaten eggs in a bowl. (I actually put the chocolate chips in here, but it doesn't matter which way you do it.)
Place the whole/half pecans (neatly & prettily!) on top of the chopped pecans & chocolate chips in the pie shell
Slowly pour the filling mix in the pie shell
Gently shake the pie from side to side to make the pecan halves float
Arrange the nuts with a toothpick to make a pretty pattern, spell your name, ask someone to marry you (uh. Don't think you'll have room for that. But you can ask out loud, and then celebrate with pie!)
Gently cover the exposed crust with foil
Bake for 30 minutes, then remove the foil. Bake 20 more minutes, or until set.
Let cool (if you can).
In addition to being quite tasty, the pie makes a great prop. If you want to find out how I used it in my book, now is the perfect time because . . .
Special deals!
Spy for a
Spy
is a sequel to the novel
I, Spy,
available for 99¢ at Amazon, Barnes & Noble and Jordan's site this week only!
To save her country and her secrets, CIA operative Talia Reynolds will have to sacrifice the man she loves. More about I, Spy.
Also, as a free gift this week,
Jordan is giving out free e-copies of a prequel novella, Mr. Nice Spy
,
on
Amazon
and
her site
!